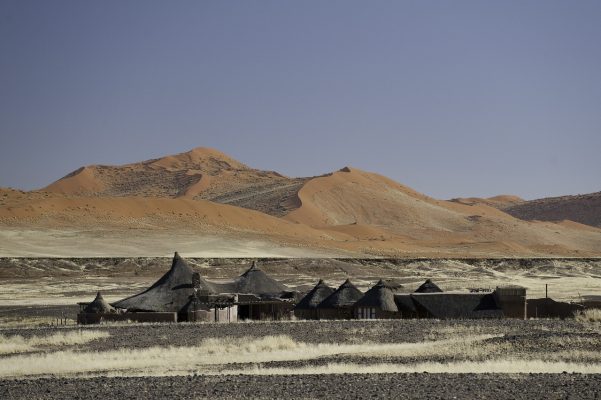 We love Welcoming our guests at Kulala Desert Lodge located on the private Kulala Wilderness Reserve.  This family-friendly lodge has impressive views of the great Namib ocean of sand and offers guests exclusive and close access to the famous red dunes of Sossusvlei, situated within Africa's largest conservation area, the Namib Naukluft Park, which is also home to the world's oldest desert, the Namib.
The lodge comprises of 23 thatched and canvas chalets with en-suites, verandas and flat rooftops complete with star beds for guests to sleep out under the stars.  Each tent is built on an elevated wooden platform designed to catch the cooling desert breezes.  The communal areas include: a plunge pool, lounge, rustic bar, dining area and wrap around verandas overlooking the riverbed and distant dunes.  For families we have 3 chalets that accommodate a family of 4.
Activities are numerous; Watch the sunrise for the comfort of your hot air balloon basket as you float over the Namib Desert, on the flight of a lifetime.  The colours are breathtaking, the landscape unique and the ancient mountains extraordinary.  Once back on earth you enjoy an "Out of Africa" style Champagne breakfast in the middle of nowhere, perfect!  It was without a doubt the best sunrise of my life – or was that the Champagne?
The best time to visit Big Daddy, one of the tall dunes in the world, is early morning when Deadvlei clay pan is flanked by the majestic sand dunes, which in specular contrast to the blue-sky flushes red in the morning sunlight.  This is a what a photographer's dream is made of.  Kulala offers daily tours to the Sossusvlei Dunes and the Sesriem Canyon.  Unwind at the end of the day with a sundowner mountain top tour, where you kick back with a G&T and watch the sun sink in the horizon.  After the days activities relax in your rooftop star bed and enjoy millions of twinkling stars, in one of the world's clearest skies.
Kulala Desert Lodge is a must do if you are planning on visiting the dunes of Sossusvlei – Namibia.  Call us for more information about Kulala or any of our other lodges or African journeys.