Rwanda is a peaceful land locked country that shares borders with Burundi to the south, Tanzania to the east, Uganda to the north and the Congo to the west.  It is one of Africa's most densely populated countries, and is stable and well managed. 
Full name:

Republic of Rwanda

Capital:

Kigali

Population:

12.21 million (2017)

Coordinates:                   

2 00 S, 30 00 E

Area:

26,338 km2 

(10,169 sq mi) 

Time:

Rwanda is two hours ahead of Greenwich Mean Time (GMT) / Coordinated Universal Time (UTC).

 

 

 

 
Rwanda, a small country in Central Africa (in the heart of the Albertine Rift), characterised by undulating hilly and mountainous terrain, with rainforest on the western heights and heavily cultivated fields in the valleys below – known as "The Land of a Thousand Hills".  From the centre, the land slopes away to the savannahs and marshes of the east with the legendary Virunga Mountains in the north-east home to volcanoes, swathes of cloud forest and half the world's total population of Critically Endangered Mountain Gorillas.  To the west lies Lake Kivu, one of the world's deepest lakes, with a depth of 475 metres (1 558 feet).  The country is slightly larger than Vermont; or the size of Macedonia.
The renowned Volcanoes National Park is part of the Virunga Mountains that is home to the mountain gorilla and golden monkey.  Kigali, the nation's capital, known to be green, clean and safe, is conveniently located in the centre of the country.  The flying time from Johannesburg, on a scheduled commercial air flight is approximately three hours and forty five minutes.  From Nairobi it is approximately one hour and thirty minutes.  The country supports impressive diversity and endemism which is conserved by its National Parks, including the Volcanoes, Akagera, Gishwati-Mukura and Nyungwe National Parks.  Aside from more than a thousand plant species, 670 bird species and myriad reptiles and amphibians, Rwanda boasts some 151 mammal species, amongst which are 15 primates.  Considered the most densely-populated country in Africa with a predominantly rural population, Rwanda is known for the traumatic genocide of 1994, as well as for its courageous recovery to become a stable, well-run and united country with a truly inspiring story. 
Pressure on natural resources in this populous yet beautiful country means that ecotourism plays a critical role in the conservation of the rainforests biodiversity in these last remaining islands of central Africa.
Rwanda Safaris Highlights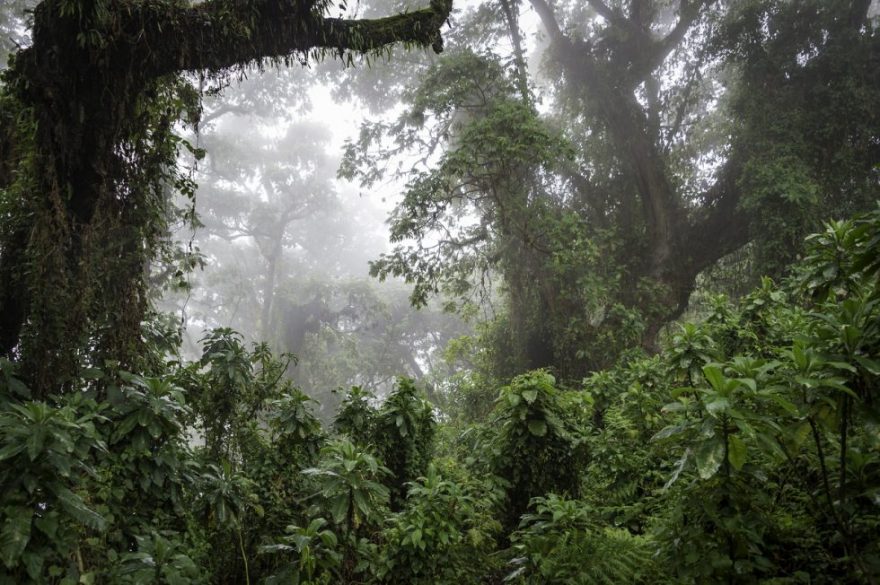 Best Time to Travel
Most parts of the country receive in excess of 1 000 millimetres (39.37 inches) of rainfall annually – with the driest months being June, July and August; with March, April, May, October, November and December being the wettest. However, Gorilla trekking in Volcanoes National Park and game drives through Akagera National Park are fantastic year round. 
Climate & Seasonality
Despite its proximity to the Equator, the Rwanda's climate is more moderate than tropical, thanks to its relatively high altitude. In broad terms, it has two rainy seasons interspersed with two dry seasons. Most of Rwanda has a temperate year-round climate due to the combination of a tropical location and a high altitude. Seasonal variations in temperature are relatively insignificant and temperatures rarely stray above 30ºC by day, or below 15ºC at night throughout the year. The exceptions are the chilly upper slopes of the Virunga Mountains. 
Currency and Foreign Exchange
Local currency is the Rwandan Franc (RWF) and the most common exchange transactions are Rwanda Francs to US Dollars. Bank notes are in 500, 1 000, 2 000, and 5 000 denominations. The currency is formally issued and controlled by the National Bank of Rwanda (BNR). Note that when exchanging US Dollars to Rwanda Francs, the higher amount of currency you change, the more favourable the exchange rate will be.
Credit Cards
MasterCard and Visa Card can be used in Kigali. A mandatory 3% credit card charge applies. Note that Diners Club and American Express are often not accepted, nor are Bank Cheques and Travellers Cheques. Elsewhere it is advisable to use cash (Rwanda Francs).  
Health & Safety
It is sensible to take basic precautions whilst travelling anywhere in the world.  We advise that you ask Tourist Information Officers, camp/lodge and hotel staff and local residents for the latest information.  While Bisate's elevation means that it is not located in a malaria-risk area, other areas in Rwanda which you may pass through do carry a risk, including Magashi in Akagera National Park; please therefore consult your medical practitioner/travel clinic regarding malaria prevention. Please be sure to do this several weeks prior to departure, as some courses of medication need to be started in advance of your arrival in Rwanda.
Languages in Rwanda
All Rwandans share two national languages which are Kinyarwanda and Swahili. English and French are the official languages. In 2008, the government changed the medium of education from French to English.
Passports and Visa
Visitors to Africa must have a passport that is valid for at least 6 months beyond your intended departure date, together with onward travel documents, proof of accommodation and sufficient funds for the duration of your stay.  Please also ensure that you have sufficient blank visa pages (not endorsement pages) in your passport, with at least 2 consecutive/side by side blank pages.  Our recommendation is 3 consecutive/side by side blank pages or even 4 if you are travelling through more than one country on your journey).  If you are uncertain check with your government travel website.
Visas are the responsibility of the traveller.  Those nationalities that require visas to enter Rwanda may have to apply for these in advance; however, some nationalities are able to obtain these on arrival at the port of entry.  Costs and requirements also vary depending on the nationality of your passport. 
We recommend you visit the Rwandan Embassy website in your country of residence for up-to-date travel information well in advance of your departure date.