Botswana is undoubtedly one of Africa's premier safari destinations with outstanding natural beauty and the most easily accessible wildlife viewing in the world.  As a world leader in conversation management and their earlier TOTAL HUNTING BAN many endangered wildlife species flourish transforming National Parks, Nature Reserves and Private Concessions into some of the greatest wildlife sanctuaries on the planet.  Whatever your travel interest we guarantee you will see many iconic species as the animals move freely over hundreds of thousands of hectares of predominately unfenced unspoilt wilderness.
Explore the matrix of channels and lagoons in the Okavango Delta, the world's largest inland delta system, walk amongst Africa's legendary wildlife, spend the night on a star-deck listening to elephants rumbling below, experience the remote silence of the Makgadikgadi Salt Pans, home to Kalahari San Bushmen and ancient Baobab trees.  Transverse the Linyanti and Savuti regions of Chobe National Park where an estimated 180,000 elephants follow ancient migration routes on their annual migration.  Individually or collectively these regions make an exceptional safari itinerary that only Botswana can deliver.  So, if you are looking for the ultimate real-life adventure our travel and course collection has it all.
Botswana Safaris Highlights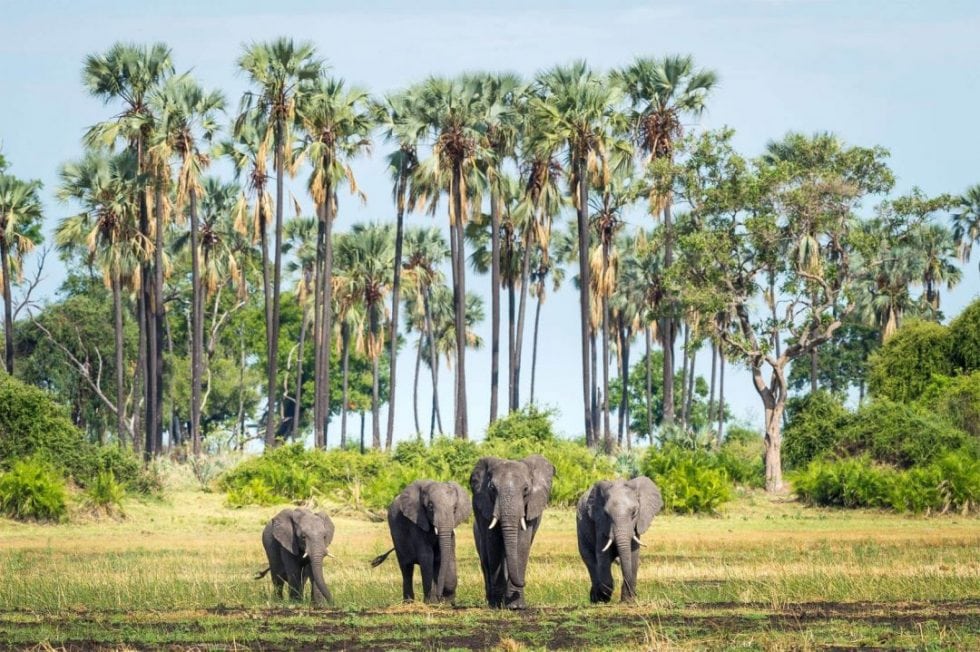 The government's successful low-impact, high-value tourism policy guarantees some of the most elegant and exclusive safaris lodges, camps and private wildlife viewing in the world.  Our private guided expeditions and mobile safaris, especially, present the true wilderness experience that is synonymous with Botswana making it one of the most highly sort after travel destinations by discerning travellers and adventurers alike.
Botswana is an extremely safe country and one of the most stable Democratic Republics in southern Africa. Its untamed topography predominately consisting of wilderness tracks into wetlands, savannahs, deserts and salt pans, and most travel is invariably by 4×4 vehicles and small charter planes.
Most of Botswana is networked by automatic telephone exchanges, with public telephones in even the most remote places.  However, when travel out bush we strongly recommend you take a satellite phone a not rely exclusively on your mobile.
Best Time to Travel
The best time to travel depends on your interests, where you want to visit and why you're travelling. Wildlife viewing at our Botswana camps is fantastic all year round, but each season has its own special charm – there simply is not one 'perfect time' to visit.
Autumn and Winter (April to August) are great times to visit the days are generally sunny and warm and as the dry sets in, the wildlife congregate near water sources.  You need to be mindful that this time of year is also the school holiday period for Britain, Europe, North America and South Africa, therefore if you have a set itinerary it is advisable to book early to guarantee your chosen destination.
June and October are the better times to travel to avoid the crowds.
Summer – December to March many lodges/camps are closed; travel is very difficult as numerous roads are inaccessible due to heavy rains. 
Climate and Seasonality
Summer (the Green Season) is from November to the end of March and usually brings very high temperatures (approx. 19 – 30ºC + / 66 – 89ºF +).  It is also the rainy season and cloud coverage and rain can cool things down, although only usually for short periods of time.
The Winter Season (the Dry Season) begins in May and ends in August and during this time virtually no rain falls.  Winter days are invariably sunny and cool to warm; however, evening and night temperatures can drop in some areas (approx. 8 – 26ºC / 45 – 80ºF).
The Transition Season April/ early May and September/ October – still tend to be dry, but the days are cooler than in summer and the nights are warmer than in winter.
Currency and Foreign Exchange
Botswana banks, as well as Wilderness camps, only accept US Dollars, GBP Sterling, Euro and South African Rand in cash. MasterCard and Visa are usually accepted throughout Botswana, but Diners Club and American Express are not.  The currency is the Botswana Pula (P).
Languages in Botswana
Setswana is the main language however; English is the official language.
Passports and Visa
Visitors to Africa must have a passport that is valid for at least 6 months beyond your intended departure date, together with onward travel documents, proof of accommodation and enough funds for the duration of your stay.
Please also ensure that you have enough blank visa pages (not endorsement pages) in your passport, with at least 2 consecutive/side by side blank pages. Our recommendation is 3 pages (or even 4 if you are travelling through more than one country on your journey).
Visas are the responsibility of the traveller. Those nationalities that require visas to enter Botswana may have to apply for these in advance; however, some nationalities are able to obtain these on arrival at the port of entry. Costs and requirements also vary depending on the nationality of your passport.
We recommend you visit the Botswana Embassy website for details of which countries either do or do not require visas: www.botswanaembassy.org which also includes the guidelines for completing the visa application should you require to have one.
For up-to-date travel information in Australia visit smartraveller.gov.au or the equivalent government travel website in the country of residence stated in your passport.  Sasiani African Safaris is not responsible for the content thereof.