What Our Guests Are Saying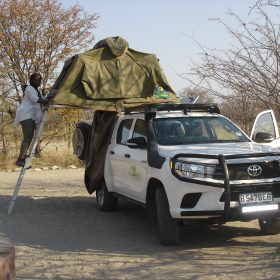 "Sasiani was highly recommended to me by my family.  Sasiani took care of everything, so I was well received at each of the three mobile safari tours I booked.  I had a blast!  Each day was filled with heart-thrilling wonder. Really. It was a "first" in a lifetime adventure that I am determined to repeat. I'm going again!".
Veronica Adamson – USA 
"With every detail meticulously taken care of in my custom self-drive itinerary, I was free to delight in the incredible African landscapes, animals and hospitality on offer at every turn. What an experience!".
Natalie Melville – Aus
"Awesome! within an hour of arriving at Kasane we're in the action – elephant, giraffe, zebra, buffalo, crocodile, antelope and more. Adrenalin from the start to the finish. Great food, fantastic accommodation, simply amazing! Our guide and support crew were entertaining, knowledgeable and efficient. Everything was perfect!  Thanks, Sasiani for the experience of a lifetime".
Fran Holloway – Aus
"5-star luxury in the remote Okavango Delta was the highlight of our holiday. Thanks to our amazing guide we saw wild dogs, leopards and hundreds of elephants exactly what we were hoping for.  Everything went like clockwork, we had the most marvellous time. Thank you Sasiani for arranging such a fabulous safari for us".
Vic & Jess – Aus
"We have had a fantastic and amazing holiday with endless adventure.  I really appreciated your service it was outstanding.  Throughout the booking period there was good and constructive communication, networking and the sharing of great knowledge.  Sasiani is a very trustworthy service and therefore have spread the word around my network.  Your quick feedback testifies how professional Sasiani is and it has been a pleasure to work with you.  We can highly recommend Sasiani African Safaris. Thanks again for your help-support and professional interaction".