Zimbabwe is a landlocked country located in southern Africa, between the Zambezi and Limpopo Rivers. It is bordered by South Africa to the south, Botswana to the west and southwest, Zambia to the northwest, and Mozambique to the east and northeast.
Full name:

Republic of Zimbabwe

Capital:

Harare

Population:

14.2 million (2015)

Coordinates:           

20 00 S, 30 00 E

Area:

390 580 sq. km / 150 803 sq. mi.

Time:

+2 hours GMT

 

 
Zimbabwe is a spectacular landlocked country in Southern Africa known for its dramatic landscape and diverse wildlife, found mainly in untouched wildlife reserves.  With vibrant cultures unique to individual regions Zimbabwe presents a fascinating assortment of dialects, traditions, cuisines and traditional arts, making every journey unique.
Visit the Victoria Fall township set against the backdrop of Victoria Falls the greatest falling curtain of water on the planet and one of the Seven Natural Wonders of the World.  The falls spans more than 1,700m and is made up of five different waterfalls; four of these falls are in Zimbabwe: Devil's Cataract, Main Falls, Rainbow Falls and Horseshoe Falls; the other, the Eastern Cataract, is in Zambia, but is fully visible from the Boiling Pot viewing station.  Victoria Falls is approximately twice the height of Niagara Falls on the Canadian-US border, and its thunderous roar can be heard up to 40km kilometres away.  The falls forces a column of spray and mist almost 500m into the air, drenching the surroundings in a fine and sometimes heavy mist, this is why the locals call the falls: Mosi-oa-Tunya or the 'Smoke Thunders'. 
The township is within walking distance of the falls and offers a variety of accommodation options, including the historic Victoria Falls Hotel, small to large safari lodges and a variety of guest lodges; there is something for everyone's taste and budget. In addition to falls tours and helicopter flights there's white-water rafting, bungee-jumping, zip lines and gorge swinging or wildlife viewing from a Zambezi sunset river cruise, wildlife safaris and more…….  
Zimbabwe is blessed with a variety of dramatic natural assets including the serene Ruckomechi Concession; the only private concession in the WORLD HERITAGE SITE, Mana Pools National Park, and home to large populations of elephant, hippo, Nile crocodile, African wild dog, and over 350 bird species and aquatic wildlife.  The region attracts many large animals in search of water, making it one of Africa's most renowned and easily accessible wildlife viewing areas. Then there is the tranquil Hwange National Park where an estimated 30,000 elephant navigate a matrix of ancient trails through the Makalolo and Linkwasha concessions, these grasslands and mopane woods are home to over 100 mammal species.  Hwange National Park has some of the highest mammal diversity of any national park in the world.
These areas are easily accessible from all of our safari camps that offer traditional wildlife game drives and walking and canoeing safaris, presenting Zimbabwe as one of the finest remote natural bush experiences.
All arrival and departure travel to our wilderness camps is by aircraft meaning you fly directing in and out of the national parks.
Zimbabwe Safaris Highlights
Ruckomechi Camp Mana Pools National Park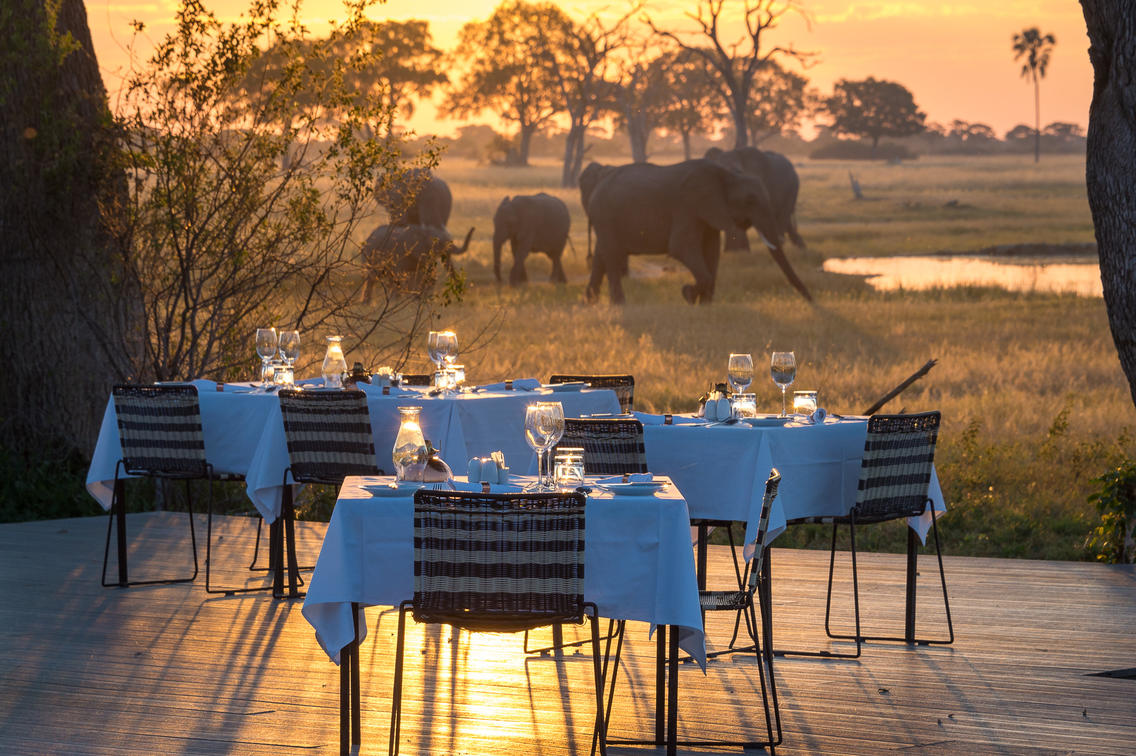 LinkwashaCamp Hwange National Park
Chikwenya Camp Mana Pools National Park
Best Time to Travel
The best time to travel depends on your interests, where you want to visit and why you're travelling. The regions where we offer safari camps – Victoria Falls, Mana Pools and Hwange National Parks – generally adhere to the same seasons however; Ruckomechi Camp in Mana Pool National Park is only operational during the dry and transition seasons from – April to November.
The dry months May to November are the most comfortable for travelling, while the initial months have a moderate dry climate the latter months become increasing hot as it leads into the rainy season.  Bird watching is great all year round with the pinnacle being between November and April when the migratory birds arrive from Europe and North Africa while the best wildlife viewing is during the dry months as animals gather around diminishing water sources.
You need to be mindful that between June and September is the holiday period for Britain, Europe, North America and South Africa, therefore if you have a set itinerary it is advisable to book early to guarantee your chosen destination.
Climate and Seasonality
Zimbabwe has a temperate climate with hot summers and reasonably mild winters, although temperatures can drop at night in winter to around 8 – 12 degrees Celsius.  On average Zimbabwe receives 300 days of sunshine per year.
Summer is from October to April where temperatures can reach 35 degrees during the day. Night time temperatures will average around 15 degrees and it can feel cooler during showers. The average daily temperature ranges from 25 – 31 degrees.  Rainfall occurs between November and March, when short thunderstorms can be expected.
Winter is from May to September and has wonderful warm sunny days, contrasted by cooler nights where temperatures often fall to around 8 – 10 degrees. Average daytime temperatures are around 21 – 25 degrees and the days are sunny.
Currency and Foreign Exchange
As the country has adopted a multi-currency system for payments, hard currencies such as US Dollars, GBP Sterling, Euros and South African Rand are accepted widely and you are encouraged to carry small denominations for ease of trade.  Though credit cards are generally not accepted as a form of payment, there are some hotels that will – Visa is most widely accepted, while MasterCard and American Express are less so. Credit card facilities are not available at the Wilderness Zimbabwe camps – payment can be made in cash only.
Languages in Zimbabwe
English is the official language although Shona and Sindebele languages are widely amongst many dialects and other minority languages.
Passports and Visa
Visitors to Africa must have a passport that is valid for at least 6 months beyond your intended departure date, together with onward travel documents, proof of accommodation and sufficient funds for the duration of your stay.
Please also ensure that you have sufficient blank visa pages (not endorsement pages) in your passport, with at least 2 consecutive/side by side blank pages.  Our recommendation is 3 pages (or even 4 if you are travelling through more than one country on your journey).
Visas are the responsibility of the traveller.  Those nationalities that require visas to enter Zimbabwe may have to apply for these in advance; however, some nationalities are able to obtain these on arrival at the port of entry.  Costs and requirements also vary depending on the nationality of your passport.  We  recommend you visit the Zimbabwe Embassy website in your country of residence for up-to-date travel information, projectvisa.com and smartraveller.gov.au or the equivalent government travel website in the country of residence stated in your passport.  Sasiani African Safaris is not responsible for the content thereof.