Trails Guiding Course
Imagine being deep in the African Bush, the blazing sun beating while sweat beams run down your forehead.  It's just you, your fellow trainees, the magnificent African plain and your rifle.
Suddenly the trees shake, birds scatter while leaving behind an ear-shuttering screech.  Approaching from the deep dark shadows of the African bush appears a majestic lion, he lets out a powerful roar.  Your pulse races, adrenaline kicks in, you feel your heart beating out of your chest as you find yourself face to face with this beautiful iconic cat.
Imagine experiencing this first hand?  Training to become a Trails Guide is physically demanding.  Every day you will be doing muscle memory drills to learn perfect shooting co-ordination and muscle fatigue is commonplace.  We spend a large amount of time on foot with our weapons and some of the walks are long and extend into the heat of the day and often through floodplains that are waist deep.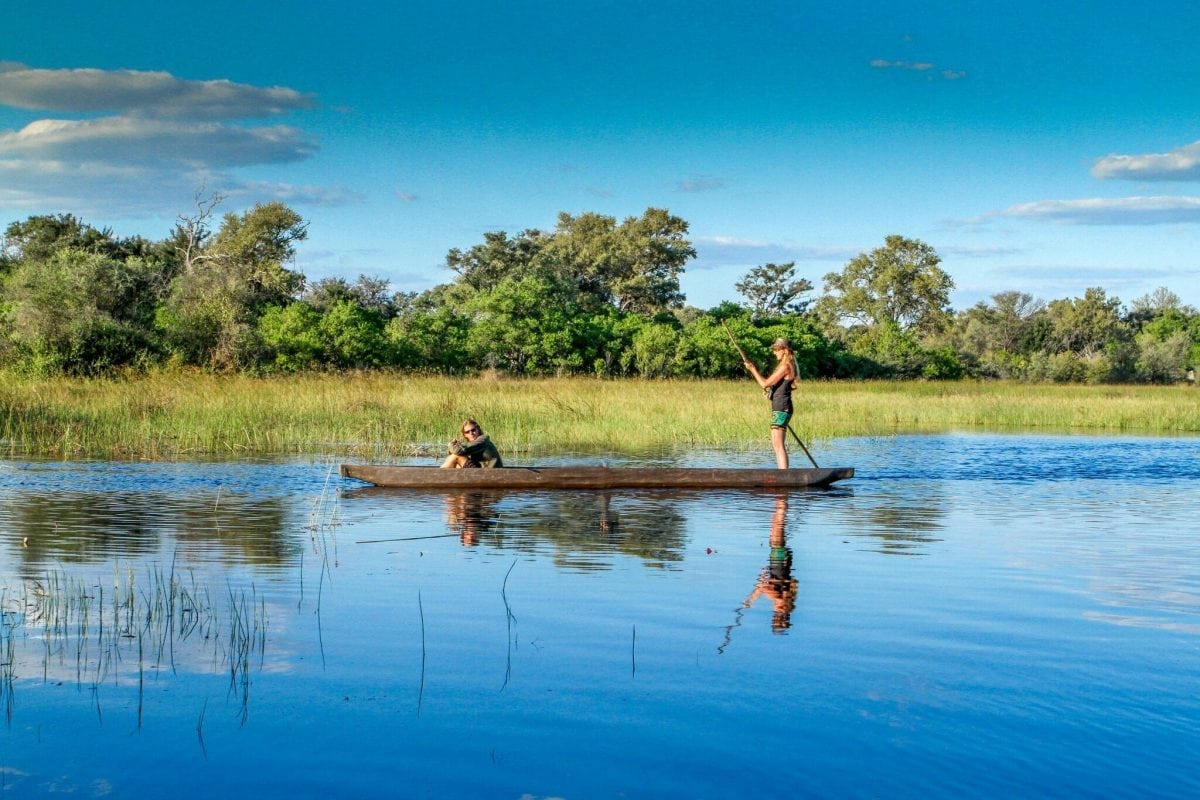 What Will You Learn & Experience?
Our diverse activities will expose you to all facets of wilderness guiding:
Game walks including approaching big game on foot
Game driving skills
Mokoro (dugout canoe), poling skills – depending on water levels
Motorboating – depending on water levels
Theory lectures and power point presentations on potentially dangerous animals (PDA) behavior
Tracking, survival techniques, and navigation
Basic weapons handling
Practical shooting with a large caliber rifle
Air rifle accuracy training
Muscle memory for shooting co-ordination
Speed shooting drills
Speed shooting assessment
Wilderness sleep outs
Course Length:
14 Day 
28 Day 
Min and max numbers:
The course runs to a max of 8
Qualifications:
No prior experience is required 
Payment:
25% deposit to confirm booking.  Balance due six weeks prior to departure.  Payment can be made by bank transfer.   Please see our terms and conditions for more information.
What your course fee includes:
Meru style tented accommodation
All meals at Kwapa Camp
Drinking water, tea, and coffee
All training and activities
One scheduled transfer from Maun to Kwapa Camp and return
What your course fee excludes:
Unscheduled transfers to/from Kwapa Camp

Travel Insurance

All flights

Personal effects, including toiletries

Staff gratuities

Drinks other than those mentioned above can be purchased in Maun before leaving for Kwapa Camp

FGASA/ BQA registration and exam fees
Join our epic African safari guiding adventure and escape…