Walking Safaris
Botswana & Zimbabwe Wilderness Adventures
Walking Safaris immerse you into the untamed wilderness of Botswana and Zimbabwe allowing you to become at one with nature and experience the true sense of real Africa at ground level.  These walking opportunities let you enjoy animals and scenery that would otherwise be missed when travelling by vehicle.  We combine the extremes of the wilderness together with its wildlife inhabitants whilst offering an accommodated safari, using lodges and safari tented camps in idyllic private settings.
Walking Safari Hwange National Park – Zimbabwe
5 Days | 4 Nights
Tailor-Made for Private Groups – Minimum of 2 and Maximum of 7 Guests
From AUD $4,985 pps 
Safari operates from 06 July 2019 to 09 September 2019
A Walking Safari is considered the finest way to appreciate Hwange National Park, Zimbabwe's largest wildlife reserve that boosts some of the greatest elephant numbers in Africa.
The magic of walking is your senses heighten, you feel alive and become at one with nature.
Safari Itinerary
Botswana Walking Safaris may include the Southern, Eastern and Western sections of the Okavango Delta,  Khwai Private Concession and the Central Kalahari Private Concession, while Zimbabwe Walking Safaris transverse the Hwange National Park.  Walking locations and routes varying depending on your itinerary. 
Our Walking Safaris have been designed for individuals, couples, families with children from 13 years of age, nature enthusiasts and small groups, they are not strenuous however, you do need to be reasonably fit and healthy.  On these walks you will soon connect with like-minded people, which will only further enhance your already amazing adventure.  Alternatively we offer Tailor-Made Walking Safaris on flexible dates and these journeys accommodate up to seven guests making them ideal for families, older walkers and small groups.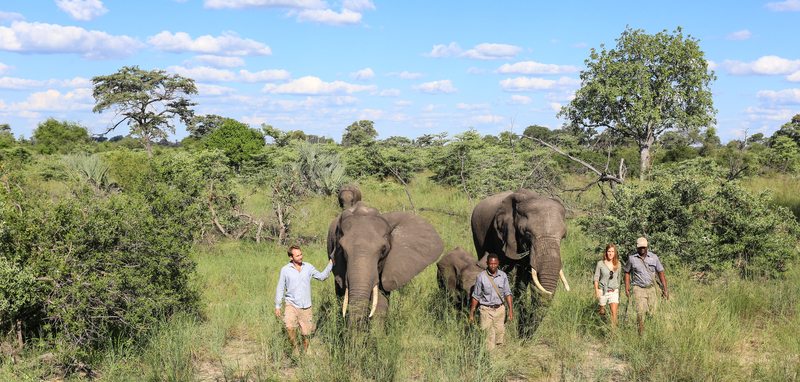 Our guides are amongst some of the finest professionals in the industry and are the vital link between you and the natural world.  They have a lifetime of bush knowledge, a passion for wildlife and nature while their warm humorous disposition makes for an amazing walking companion.
If you would only like to participate in a short walk then join a morning or day guided tour with one of our many camps and lodges that offer a variety of options throughout the seasons.
contact our reservations office for more information about our walking safaris or other experiences