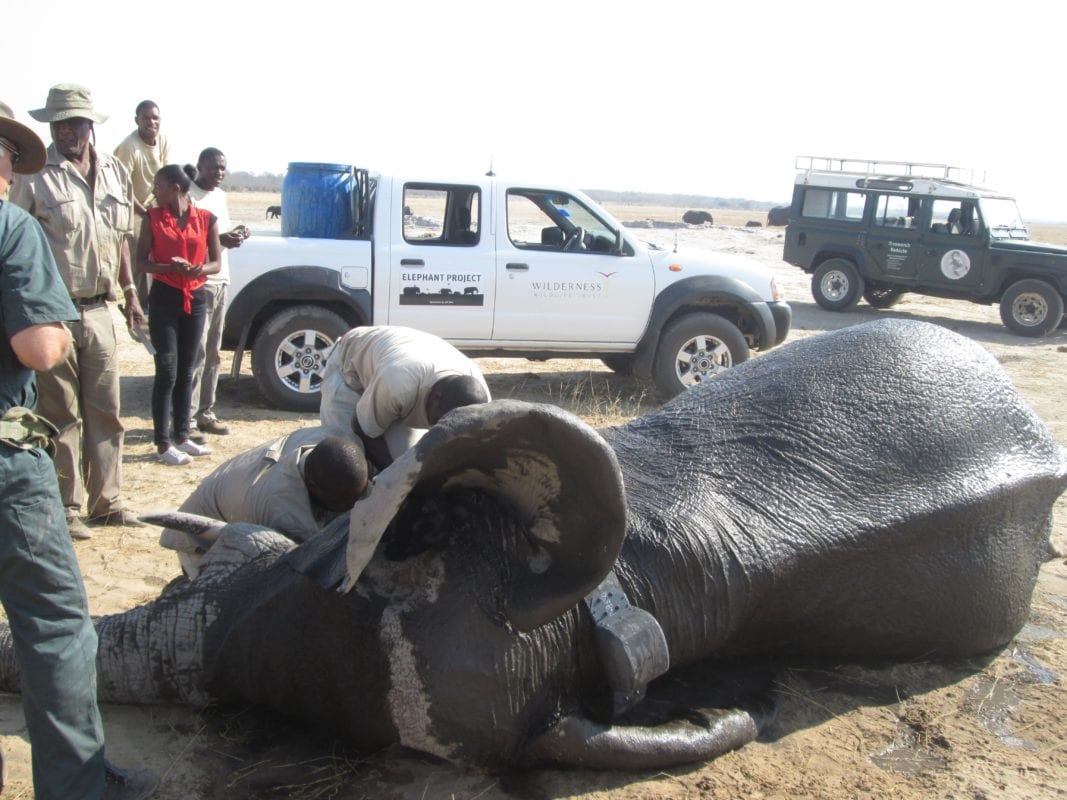 Elephant Collaring – Behind the Scenes Experience
Hwange National Park – Zimbabwe
6 Days |5 Nights
Itinerary
Fully Serviced All Inclusive Safari – Starts and Ends in Linkwasha
Introducing Hwange Elephant Collaring, interactive conservation experience that has been crafted to offer guests access to a unique and privileged, behind-the-scenes conservation and community project.  We invite you to join our partners in Zimbabwe's largest national park, to collar an elephant, count wildlife, find out more about anti-poaching efforts and meet neighbouring communities. All funds raised from this itinerary are directly channelled to the Scorpion Anti-Poaching Unit, Hwange National Park.
About the Purpose: Hwange National Park is home to some of Southern Africa's last great elephant, buffalo and sable herds and plays an integral role in a network of Southern African conservation areas. Since 2000, our partners have invested in conservation initiatives in the Park's south-eastern corner, such as daily provision of water for thirsty wildlife, firebreak maintenance, supporting the anti-poaching units and being part of research projects. Meanwhile, on Hwange's border lie a number of villages, and thanks to our 'Purpose' journeys our partners have funded and supported vital nutrition and literacy in the schools, adult empowerment projects, and of course the Children in the Wilderness programmes (CITW).
On this Journey…
Actively participate in game count and anti-poaching activities supervised by experts in the field

OBSERVE AND PARTICIPATE IN THE COLLARING OF AN ELEPHANT COW

Learn about our game water supply project – now solar

Meet members of the community to learn more about their lifestyle and engage with them on human-wildlife conflict

Visit a community school's Eco-Club and learn about other upliftment projects

Enjoy laughter and frivolity of the local children
Itinerary Outline:
Day 1 | 14 Sep – Linkwasha: Fly into Hwange National Park. Afternoon activity will discuss the game water supply and solar pumps projects. Overnight Linkwasha.
Day 2 | 15 Sep – Linkwasha: Morning snare sweep in two teams; midday siesta in bush and lunch at Wexau Base Camp for introduction to Scorpion Anti-Poaching Unit. Overnight Linkwasha.
Day 3 | 16 Sep – Ziga: Early drive via Ngamo Plains to Ziga village. Visit school, Eco-Club, women's empowerment projects; gain insight into human-wildlife conflict. Overnight bedrolls at Ziga.
Day 4 | 17 Sep – Linkwasha: Spend the morning investigating livestock herding and kraal practices; return to Linkwasha for evening talk with vet on darting/ collaring process, how it plays out and each person's role. Overnight Linkwasha.
Day 5 | 18 Sep – Lindwasha: Early morning departure; full day elephant collaring with lunch in the bush. Overnight Linkwasha.
Day 6 | 19 Sep – Lindwasha: Morning search for collared elephant; flight out.
Itinerary Offered 14 – 19 September 2019
Zimbabwe Hwange National Park Trip guaranteed to travel with minimum 4 guests
$16,873 per person sharing and Single Supplement $2,500
Your Safari Includes:
All meals, morning & afternoon activities, village tour, talks, laundry and all local drinks – excludes premium imported brands and champagne.  Internal flight (VFA-Hwange & Hwange-VFA).  We have a host of experts involved in this trip, which will make the experience of the life time.  
Your Safari Excludes:
International long-haul flights to and from Victoria Falls. 

Meals not specified. 

Items of a personal nature i.e. telephone calls, laundry, mini-bar etc. 

Cancellation, travel and medical insurance. 

Staff gratuities.  Any new government taxes, levies, fuel or industry increases which are beyond our control. Visa fees – where relevant. Departure taxes, unless specified.
Optional Safari Extensions Available.
We highly recommend rounding off your experience with several days in and around Victoria Falls
All bookings subject to availability
Prices are subject to change owing to foreign exchange rate fluctuation
Each couple travelling together, or individual traveller (booked as a single supplement), will receive a pair of Olympus binoculars to use on their journey, and to take home afterwards.
Olympus support ongoing conservation initiatives in Africa's remote wilderness areas, a scholarship programme for secondary education run by CITW, as well as the development of community structures, such as the women's centre/dining hall at Ngamo and Ziga, and the clinic housing.  
By travelling, each couple – or individual traveller – will ensure that one rural student receives a scholarship for one year.
Partner and Beneficiary
Scorpion Anti-Poaching Unit – Hwange National Park.  There is a adversely high mortality rate of lion to accidental snaring in Hwange National Park, with evidence suggesting that many wire snares are set for medium and large animals, including elephant and giraffe. In addition, there has been an increase in the poisoning of elephant by ivory poachers. The Scorpion Anti-Poaching Unit (SAPU) works in partnership with Zimbabwe Parks and Wildlife Management (ZPWMA), Zimbabwe Republic Police (ZRP) and the Wilderness Safaris camps in Hwange to provide the manpower, logistical support and resources to assist ZPWMA to reduce levels of bushmeat and other poaching in the boundary areas of Hwange National Park. SAPU is based at Wexau Camp close to the eastern boundary of the park. The unit covers a 76 km-long stretch of Hwange which borders the neighbouring Tsholotsho Communal Lands, from the Ngamo area to Makona.
Partner
Children in the Wilderness is a non-profit organisation supported by ecotourism company Wilderness Safaris, which aims to facilitate sustainable conservation through leadership development and education of rural children in Africa. By exposing children to their natural heritage, Children in the Wilderness aims to create a network of learning sanctuaries that uplifts and cares for our children, creates leadership values amongst them, and conserves our planet. In this way, we hope to inspire the children to care for the environment so that they can become the custodians of these areas in the future.